After Safari and Under the Sea, Nautical theme is the next most popular theme that our clients love to request for. At the Little Red Balloon, our forte is to create a unique party set up for your kid's birthday celebration. 
Mummy S. approached us to do up a Nautical Mickey balloon theme for Adam's 1st birthday. She wanted Mickey to be the star and the other characters to complete the whole disney inspired theme. 
She also requested to have sand and waves thus we did up a backdrop in toffee coloured balloons to create the "sand" and the front part of the decor in a mixture of blue balloons to represent the sea.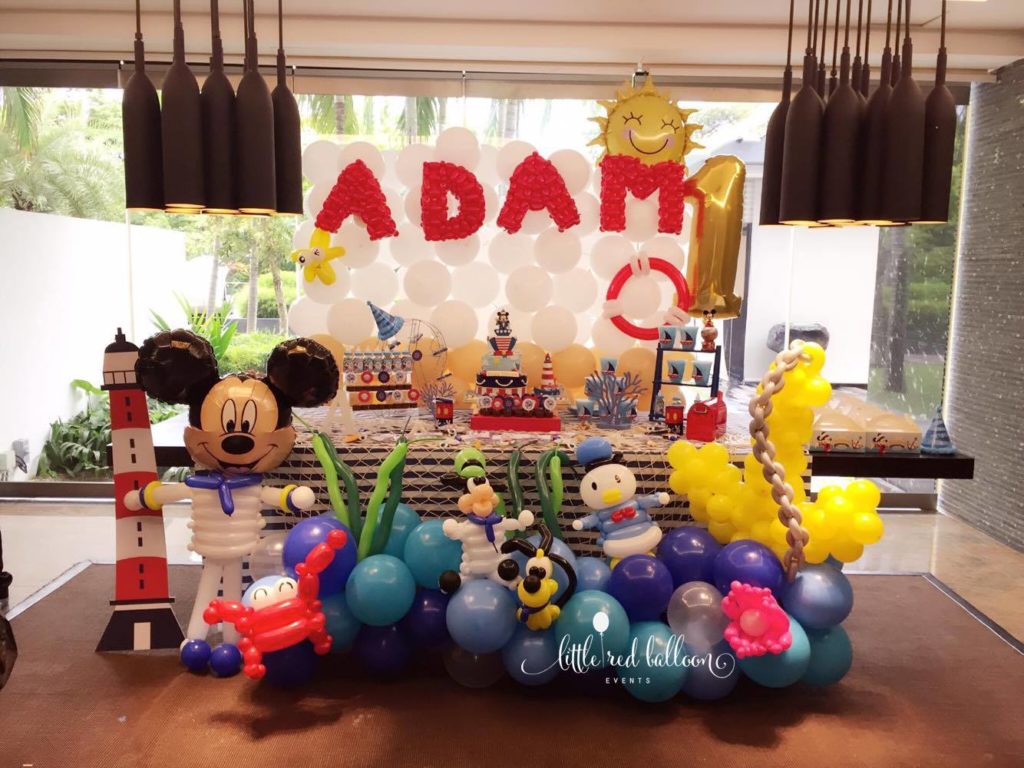 We love the myriad of blue colours depicting the different depths of the sea. Mickey, Goofy, Donald & Pluto were dressed up in sailor uniforms to complete the whole look.
We also added a large anchor, seaweed, crabs & starfishes to give it a feel of the sea.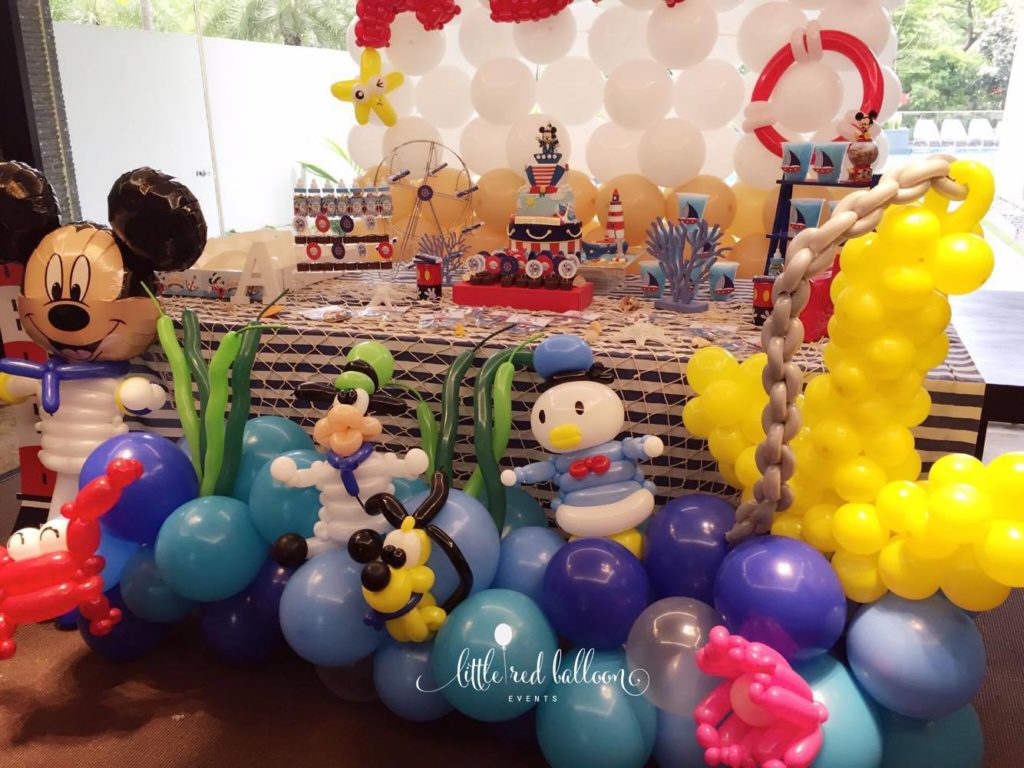 The Dessert table was draped with a blue and white striped cloth with a netting. The fondant cookies had 2D cutouts of anchors and little sailor uniforms. Our cookies are individually wrapped which is good to give away as souvenirs to your guest.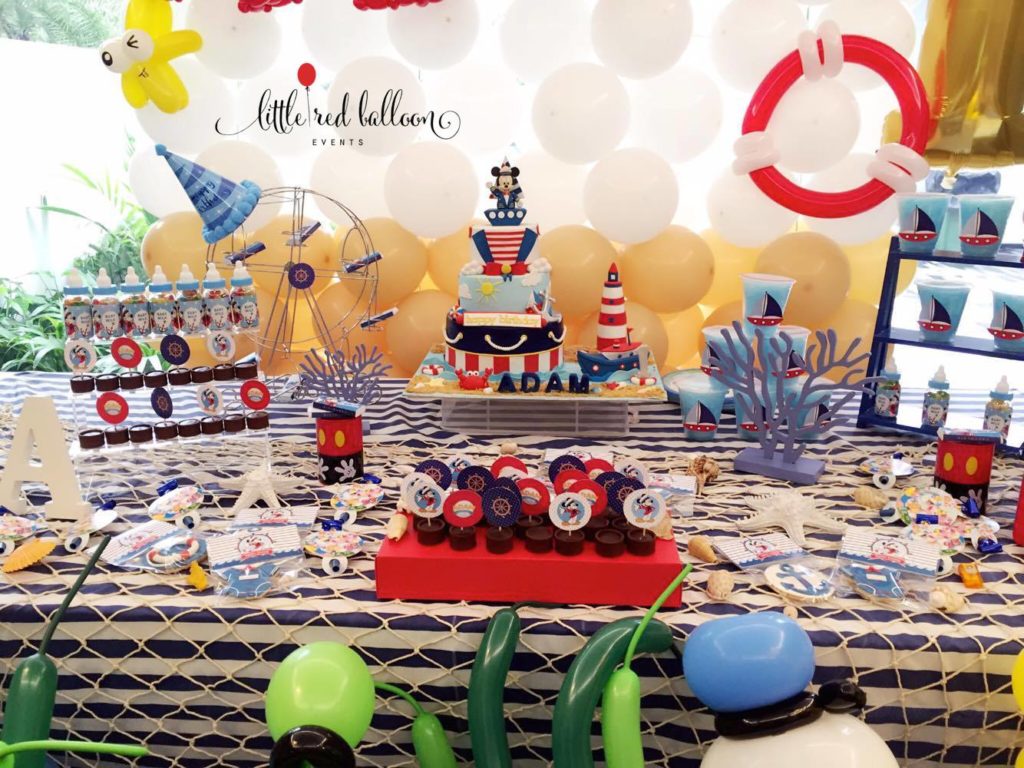 Our cake was designed in the same theme as the balloons. We love the addition of the light house figurine and sand bits on the cake board!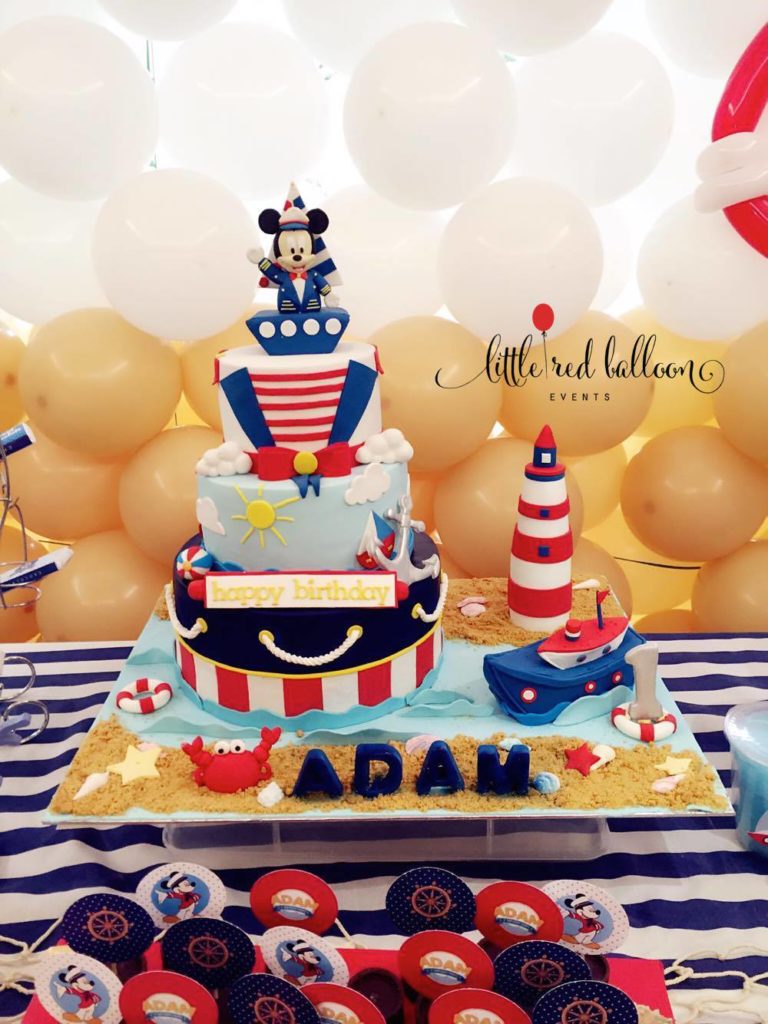 ---
Another unique nautical design that we did is this nautical Sophie the Giraffe. 
Mummy J came to us with Sophie the Giraffe theme. After some discussion, we decided to incorporate the giraffe with a nautical theme. We had Sophie swimming in the water with a float!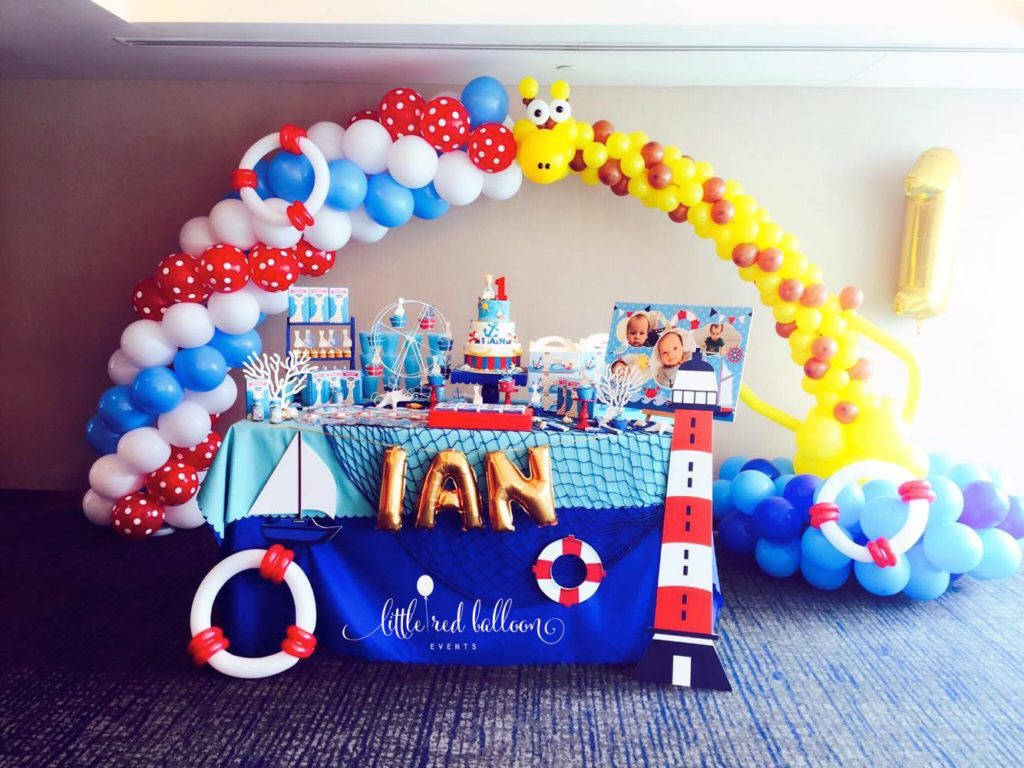 Close up shot of the lovely cookies and customised pocky boxes.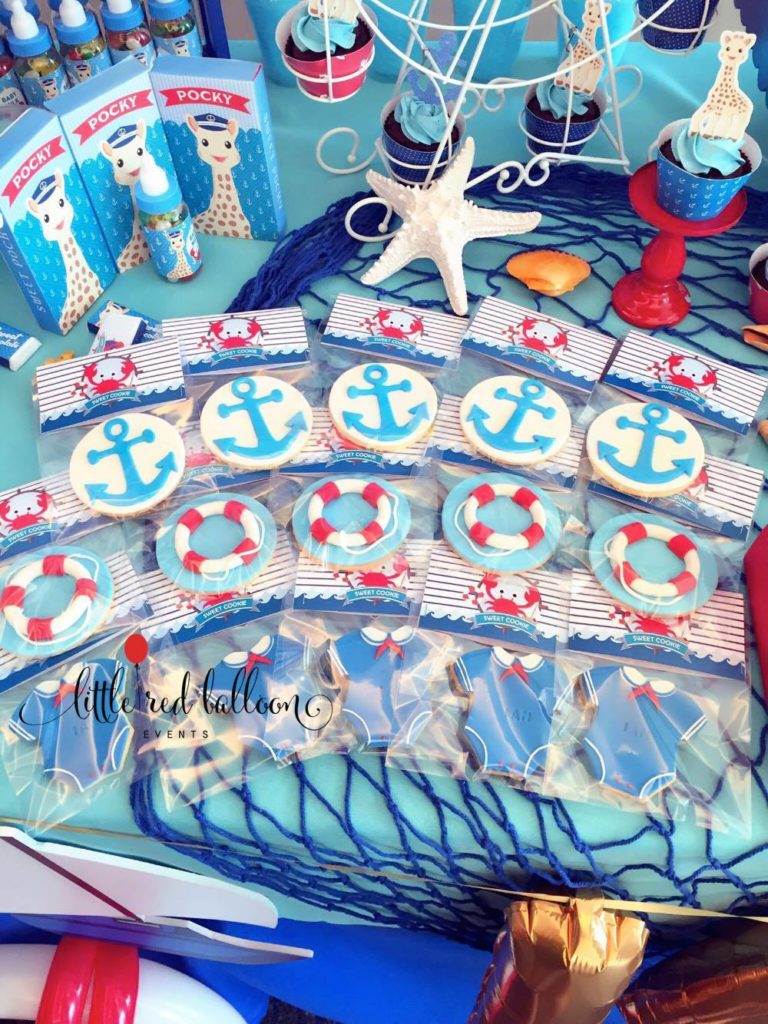 Our chocolate bars are beautifully wrapped with customised labels in the same Nautical Sophie theme.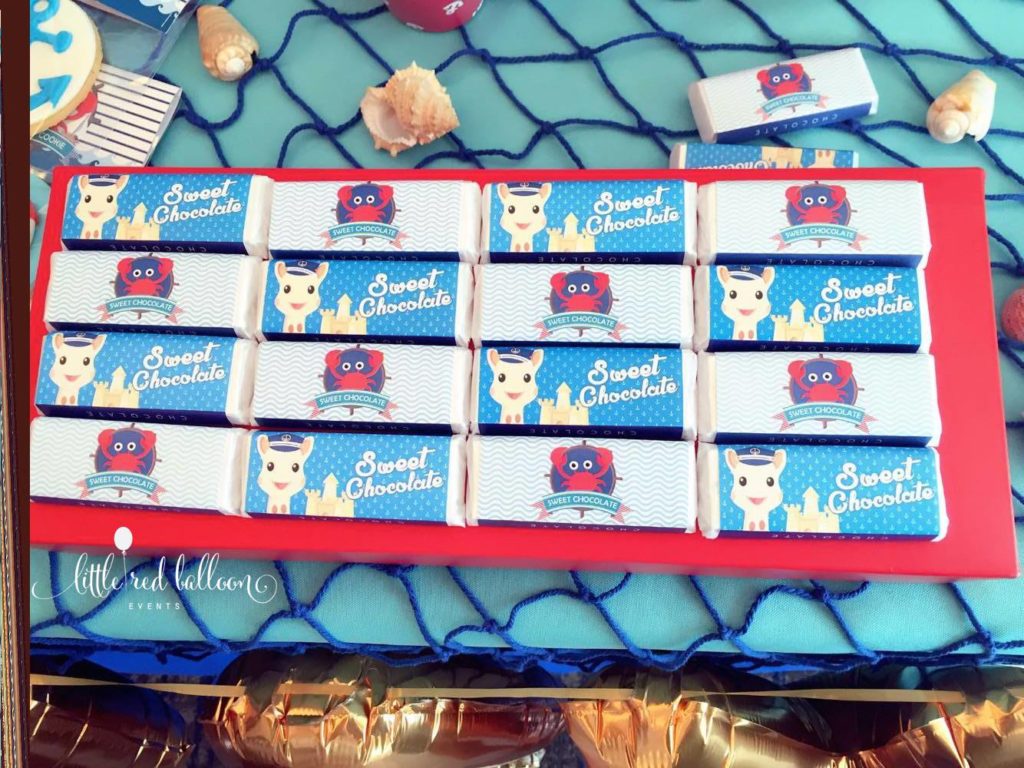 Here we have the A2 baby collage designed in the Nautical theme and our goodie boxes with baby Ian's name printed on them.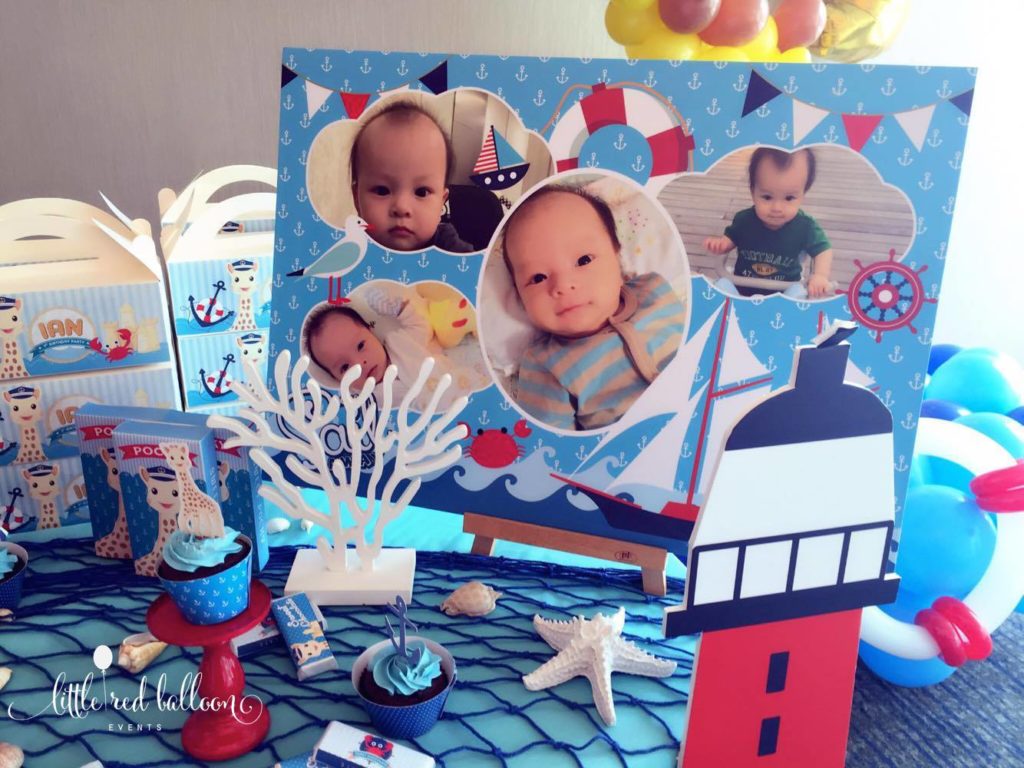 Feel free to approach us with any theme that you have in mind. We will do our best to deliver and make your party come alive!
View more of our affordable balloon decoration packages here.
Call or whatsapp 81618448 or email sales@littleredballoon.com.sg